Sinopec sells stake in retail arm for $17.5bn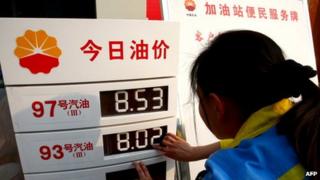 China's largest refiner Sinopec has struck a deal with 25 local and foreign investors, to sell a 30% stake in its retail arm.
The retail unit will be issuing new shares to the group of 25 investors, which are mostly financial companies like insurers and fund managers, to raise $17.5bn.
The company's shares fell by 6.8% on Monday in Hong Kong trade.
Sinopec's retail arm operates more than 30,000 petrol stations across China.
It also owns more than 23,000 convenience stores under the Easy Joy brand, as well as oil-product pipelines and storage facilities.
Local investors named in the transaction include China Life Insurance as well as Chinese white goods manufacturer Haier Electronics and internet giant Tencent.
Last month Sinopec signed a preliminary agreement with Tencent to explore introducing mobile payment systems at its petrol stations.
In May this year, the company also signed an agreement with China Taiping Insurance to sell car and life insurance at its petrol stations.
Outside expertise
Sinopec chairman Fu Chengyu told local media last week the company had received bids from 37 interested parties for its retail arm.
The oil company sees the sale as a way to bring in expertise and ideas to boost its non-fuel businesses, which include convenience stores and other services such as fast food and car washes.
The operating model is currently different from the West, where non-fuel revenue can account for more than half of a petrol station's profits.
In the case of Sinopec, nearly all of its retail sales come from petrol.
The deal marks China's biggest privatisation programme since President Xi Jinping came to power in 2013.
---
Analysis: Why Sinopec is bringing in private investors
By Juliana Liu, BBC News, Hong Kong
On long car journeys across China, the limitations of the country's petrol stations become rather obvious.
Unlike others places with more established car cultures, the convenience stores attached to the petrol pumps offer little variety in terms of food, drink and other services.
One finds little more than sweets and instant noodles.
It is no wonder that one of the goals of the $17.5bn deal with private investors is to revitalise the so-called 'non-fuel' business composed of more than 23,000 convenience stores.
They currently account for only a tiny part of the overall business.
---