Shop bosses plan new 'Yes' vote warning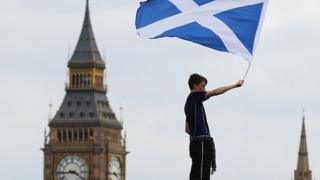 The BBC has learned that key retailers are planning a joint warning of higher business costs should Scotland vote "Yes" as the war of words heats up.
A letter written by the head of the Kingfisher group is expected to be published in the next 48 hours.
It is thought further signatories will include the heads of John Lewis, Asda and Marks and Spencer.
Others, including Gordon Macintyre Kemp of Business for Scotland, say concerns about price rises are unfounded.
A former boss of Sainsbury's and the bosses of Asda and John Lewis have already suggested that prices could rise in an independent Scotland.
John Timpson, Chairman of Timpson, has confirmed that he has signed the letter. He has 100 shops in Scotland. Mr Timpson said: "The biggest problem is uncertainty. We don't know what will happen for instance on tax and business rates. My concern is the likelihood that these would go up.
"If our costs do increase, we certainly wouldn't put prices up. But we would make less money and we'd have to think very hard over whether we would open any more stores north of the border."
Later on Friday Virgin boss, Sir Richard Branson, added his voice to those calling for Scotland to remain in the UK. In a blog post he wrote: "I love Scotland. My wife is Glaswegian, I visit family there, as well as many wonderful Virgin staff and companies.
"On a personal basis I would love to see Scotland stay as part of the UK. As a businessman, considering Scotland's economy, prosperity and security, I think it is imperative it stays in the Union."
"Dynamic situation"
On the other side of the argument, the boss of JD Wetherspoon, the UK pub chain, has accused business leaders and politicians of talking "nonsense" over independence worries.
Speaking on Friday, Tim Martin said: "Scotland could do very well on its own".
The head of the John Lewis Partnership, which includes Waitrose, said on Thursday that it was "most probable" that higher costs will be passed on to customers in Scotland if the country votes "Yes" to independence.
Sir Charlie Mayfield said: "When we are talking about two separate countries it is most probable that retailers will start pricing differently."
BBC business editor Kamal Ahmed said that the potential price differentials between Scotland and the rest of the UK would create a competitive market: "What would happen if Scotland becomes independent is that if the British-based retailers started charging more then new retailers will appear who will start charging less. It will be a dynamic situation."
Political pressure
The Yes campaign say that this onslaught from companies is suspiciously timed and could be a result of lobbying from 10 Downing St.
The BBC understands that one-to-one conversations were held in Downing Street with supermarket bosses.
BBC economics editor Robert Peston said that Downing Street accepts that the Prime Minister has been putting pressure on bosses to go public with their concerns that prices would rise in an independent Scotland.
The chancellor George Osborne will miss the G20 meeting for the decision on the Scottish referendum, a Treasury source has said.
The Governor of the Bank of England, Mark Carney, has already announced that he will also be skipping the G20 meeting of finance ministers and central bank governors to be back in time for the referendum result.
Moving banks
Earlier this week financial institutions ignited the business debate with Royal Bank of Scotland confirming it would move its headquarters to England in the event of a "Yes" vote, and other financial institutions including Standard Life, Clydesdale, Lloyds and TSB announcing they would re-locate or re-register parts of their business.
The latest to speak about re-location is asset management company Aegon UK.
Speaking to BBC Radio 4's Today programme, chief executive Adrian Grace said that they were setting up a new registered company in England and Wales so that customers were "unimpacted by what is going on in Scotland". He said "customers will not want a currency risk" if Scotland votes Yes.
Mr Grace said they would not be moving people or work from Scotland at the moment because it was too early to predict the outcome: "we are not clear exactly what the implications will be and, as you know, there is probably an an eighteen-month transition period.
"Our strong preference is not to move our operations ... it may well be that we are forced by regulators or by other institutions to move certain people.
He said they had had no contact with Westminster in their decision making.
The boss of the 170-year-old asset manager, which has a head office in Edinburgh, said they had to make sure they were prepared and that they had contingency plans.