Housing market reaches plateau, say surveyors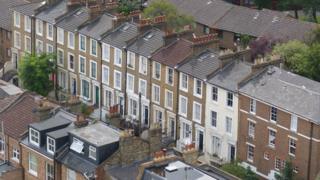 The housing market has reached a "plateau", according to a survey of chartered surveyors across the UK.
The Royal Institution of Chartered Surveyors (RICS) said the number of house sales agreed in August fell for the first time in two years.
Surveyors also expect prices to rise more rapidly outside London than in it.
The biggest increases are expected in Northern Ireland, The East Midlands and Scotland.
RICS said price momentum in London had started to "soften", as flats and houses had become more unaffordable.
"In some areas the recovery has only recently taken hold and affordability is rather less stretched," said Simon Rubinsohn, RICS chief economist.
"Significantly, members now expect price gains over the next year to be faster outside of the capital, than in it."
Capital Economics said it was further evidence that the market was running out of steam.
The survey also revealed a big fall in the number of enquiries from new buyers, and a lengthening in the time it takes for sales to go through.
RICS blamed the new, tougher, mortgage rules for the slow-down, which came into effect in April.
They said the prospect of a first rise in interest rates for over five years was also having an effect.