Scottish home sales 'slow' on referendum fears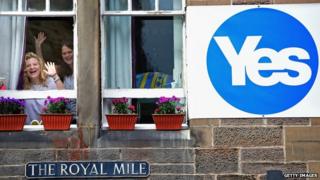 House sellers in Scotland are receiving offers for their property "subject to referendum", ahead of next week's vote.
Buyers are trying to shield themselves from the risk of house prices falling if the answer to the independence question is "yes", according to surveyors and solicitors.
In some areas, business has dropped by 50% since the start of September, says Edinburgh firm Allied Surveyors.
"There's been a very noticeable slowdown," the company says.
Speculation that firms might move operations to England has encouraged buyers to hold back or make their offers conditional on a "no".
"People are concerned that prices will be affected: they're thinking back to 2008-10 when the market was really dire," says Chris Highton of Allied Surveyors.
Offer withdrawn
Making an offer "subject to referendum" would be similar to making it "subject to survey".
If Scotland votes in favour of independence, just as if the building were found to have defects, the offer would be withdrawn.
In the case of the Scottish vote, according to property professionals, buyers are saying that if independence is given the green light, they will pull out.
One broking firm, John Charcol Mortgages, said offers were coming in "subject to a no vote".
"Nobody knows what the reaction of lenders will be in the aftermath of the referendum, in the short or long term," says Ray Boulger, senior technical manager at John Charcol.
"Basically the message is that offers are now becoming contingent on something nobody has any control over."
Excuses
However, some agents suggest the referendum has simply gone to the top of the list of excuses people use to explain why they are unable to buy.
"It used to be that the bank wouldn't lend, interest rates were too high, or the property was too close to a planned wind farm," comments Simon Brown of CKD Galbraith in Stirling.
"Now it's the referendum."
He says that sales so far this year have been strong. But as the vote gets closer, though, uncertainty about the impact on the housing market is growing.