Sports Direct reports rising sales and profits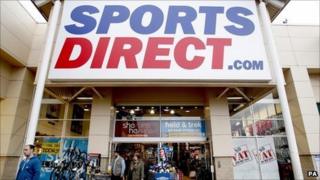 Sports Direct, the sports retailer, has reported rising sales and profits in its latest trading update.
The company, founded by Newcastle United owner Mike Ashley, said group sales rose 12.2% to £711.2m for the 13 weeks ending 27 July 2014.
Gross profit increased 11.8% to £301.2m, the company said, ahead of its annual meeting later on Wednesday.
While the retail and premium lifestyle divisions performed strongly, its brands division contracted.
Dave Forsey, Sports Direct chief executive, said trading was "in line with management's expectations with some stronger weeks offset by England's disappointing World Cup performance."
In July, shareholders approved a bonus scheme that could see Mr Ashley and up to 3,000 employees share £200m in equity, as long as profit targets are met.
It was the board's third attempt to pass a bonus scheme since 2012.
An earlier attempt in April to award Mr Ashley more than £70m in shares had to be dropped following opposition from some investors.