Italy's economic growth will be 'around zero', says PM Renzi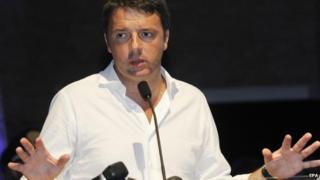 Italy's Prime Minister has said that Europe's third largest economy will see growth of only "around zero" this year.
Matteo Renzi's forecast is lower than the government's previous prediction and comes as the economy tackles its third recession in a decade.
"I am not optimistic," Mr Renzi said in a pre-recorded interview to be aired later on Tuesday. It is the first time he has put a figure on likely growth.
Lacklustre growth will do little to help the eurozone's own economic woes.
The Italian economy's slowdown over the first half of this year has raised questions over whether Mr Renzi can meet his promise to cut spending, while also boosting growth and halting the rise in unemployment.
He came to power in February on a programme of tackling red tape and corruption, and getting a grip on public finances.
'End of the fall'
In August, official figures In August, official figures showed that Italy's economy had fallen back into recession, after contracting for two quarters in a row.
Its gross domestic product (GDP), the value of all the country's goods and services, shrank 0.2% in the second quarter of the year.
The surprisingly weak number followed a 0.1% contraction in the first quarter.
Economists consider that two quarters of shrinking GDP mean a country is in recession.
Mr Renzi said the zero expansion was "the end of the fall, but... not a recovery".
Government officials had previously predicted growth this year of about 0.8%.
The Italian prime minister did, however, welcome the recent drop in the euro, arguing that would make European exports more competitive.
"For our companies, for our world, this would be a very, very important factor," Mr Renzi said in the interview.
Italy's problems come amid wider concerns in the eurozone. With France's economy also slowing, and weakness in Germany, the three big eurozone countries can offer little help to the 18-nation bloc.
Last week, the European Central Bank the European Central Bank cut interest rates and launched a stimulus programme in a move to kick-start the euro area.