Barnes & Noble revenues fall as Nook sales disappoint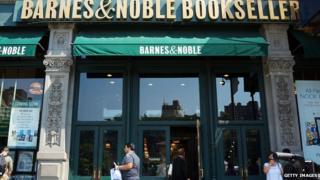 Barnes & Noble, the US bookstore chain, says falling demand for its Nook e-book readers dented sales in its first quarter.
Revenues from its Nook division, which includes digital content and accessories, fell 54.3% to $70m (£43.5m; 54.3m euros), compared to the same period last year.
Book store and online revenues also fell 5.3% to $955m for the three months to August, the company said.
Group revenues fell 7% to $1.24bn.
But the company did manage to reduce net losses to $28.4m, down from $87m compared to last year, partly due to a cost-cutting programme in its Nook division.
"We continued to improve our financial performance, while further executing on our strategic initiatives, including work on the proposed separation of the Barnes & Noble Retail and Nook Media businesses," said chief executive Michael P. Huseby.
Barnes & Noble is continuing with plans to hive off Nook as a distinct business by the end of the first quarter of 2015, but "there can be no assurances regarding the timing of the proposed separation or that such separation will be completed," the company said.
Its latest Nook reader, a co-branding venture with South Korean smartphone and tablet maker Samsung, was launched in August.
"[It] provides readers the best of both worlds: Samsung's world-class tablet technology, with our expansive reading and entertainment content catalogue and award-winning reading experience," said Mr Huseby.
Looking ahead, the company said it expects bookstore sales to decline "in the low single digits" during 2014/15, but that losses in the Nook division would narrow.