UK industrial output sees biggest rise for six months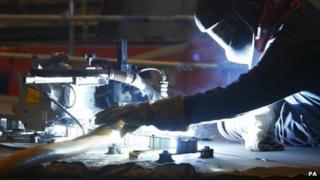 UK industrial output saw its biggest monthly rise in six months in July as electricity generation increased, official figures show.
Industrial output rose by 0.5% in July after a 0.3% rise in June, according to the latest figures from the Office for National Statistics.
The increase was stronger than the 0.2% average rise forecast by economists.
Separate ONS figures showed the UK goods trade deficit hit its widest level for more than two years in July.
The goods trade deficit was £10.2bn, up from £9.4bn in June, the widest monthly deficit since April 2012.
The widening came despite a small £500m increase in exports, as imports rose "more significantly", by £1.3bn, the ONS said.
'Ploughing on regardless'
A host of British firms have complained about the impact on sales of the strong rise in the pound this year.
However, Berenberg's UK economist Rob Wood said slowing growth in the eurozone was a "more likely" reason.
"The post-2007 crisis experience strongly signals that UK exports are not sensitive to the exchange rate," he said.
Mr Wood said that the increase in imports was positive, "suggesting domestic spending is ploughing on regardless of geopolitical risks and nearing interest rate hikes".
Meanwhile, Markit's chief economist Chris Williamson said the rise in industrial production was not as positive as it appeared, noting it was still 7.2% lower than before the financial crisis.
"Business surveys suggest that factories have struggled over the summer compared to the strong growth enjoyed earlier in the year... the slowdown in manufacturing raises concerns that the wider economy may also weaken in coming months," he added.