Markets wake up to Scottish independence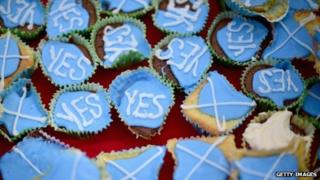 To quote Sir Alex Ferguson - for some businesses who don't much like the look of independence, this is squeaky bum time.
Executives at Scottish based firms such as Standard Life, Royal Bank of Scotland and Weir Group arrived at their desks this morning to be greeted with falling share prices and fresh questions over what 19 September - the day after the Scottish referendum - might look like.
The poll at the weekend suggesting for the first time that support for the Yes campaign is now narrowly ahead of the Better Together push has certainly concentrated minds.
The pound is also down - you can read the details here.
'Intensifying debate'
And, as of lunchtime, of the 11 fastest fallers in the FTSE 100, five are based in Scotland - Standard Life, Royal Bank of Scotland, Lloyds, the energy business SSE, and engineering firm, Weir Group.
Others, such as TSB, which is actually incorporated in London despite its banking licence being issued in Scotland, are also down. A quarter of TSB's mortgage lending is in Scotland.
Taking the number one slot in the fastest fallers list is Babcock, which has major defence interests in Scotland. As does BAE Systems, which is the 10th fastest faller.
The poll by YouGov in The Sunday Times at the weekend (details here, you will need a subscription,) has led to an "intensifying debate on how to react", according to a very senior business figure close to this debate I spoke to this morning.
Two banking sources have also revealed that bank branches north of the border have started holding more cash at branches, in case members of the public decide they want to take out their money.
That is how seriously the banks themselves, and the Bank of England (which has been informed about this cash move), are taking the possibility of a Yes vote on 18 September.
Let's be clear. There appears to be no evidence yet of "deposit flight" - people moving money to English domiciled banks. And sources have said that moving some additional cash to branches is often a reaction to electorally volatile situations - a close general election, for example.
But financial institutions are preparing for all eventualities with movements of cash (a very small percentage of the liquidity they hold) and short-term buffer arrangements, should the need arise.
The Bank of England, I am told by people in the financial services sector, is ready for "a range of outcomes and reactions".
Mark Carney will appear before the Treasury Select Committee on Wednesday and probably reiterate what he told me at the launch of the Inflation Report last month about those preparations.
He made it clear that the Bank remains the guarantor of all British bank deposits if there is a Yes vote until the negotiations for a newly independent Scotland are agreed - a process likely to take at least 18 months.
You can read my blog about that intervention here.
'Self-interested'
Some business leaders who are against independence are wondering whether they should try and make the case again - publicly - about why they believe it would be bad for the economy.
But the leading businessman in Scotland who is against independence I spoke to this morning, told me: "I'm not sure people who are perceived as 'fat-cats' actually help. They sound self-interested."
Two weeks ago, 130 business leaders signed a letter against independence. Sir Michael Rake, the president of the Confederation of British Industry, as well as chairman of BT Group, warned of the consequences in the same week. As did David Cameron.
Their arguments don't appear to have swayed the voters.
A letter signed by 200 business people who say that independence would be good for the Scottish economy and business innovation appears to have chimed more neatly with where the momentum lies north of the border.
The markets are finally pricing in the possibility that those arguing for independence win the day - after appearing to be rather sleepy on the matter up until now.
As a note from Deutsche Bank said at lunchtime: "The market should now price at least a 50% chance of a 'yes' vote. GBP [sterling] risk premia has already spiked meaningfully higher."
There is likely to be more volatility ahead.