Ryanair agrees to buy Boeing 737 planes worth $10.4bn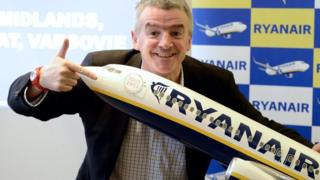 The Irish low cost airline, Ryanair, has agreed an order valued at $10.4bn (£6.4bn) to buy 100 planes from American aerospace company Boeing, with an option to buy a further 100 later.
The order is for Boeing's more fuel efficient 737 MAX 200 aircraft.
Ryanair has not disclosed what it will be paying, but airlines are rarely charged the full price on large orders.
If Ryanair completes the order for all 200 aircraft the order would be worth $21bn at officially listed prices.
'Improved efficiencies'
"It's going to change the game for low-fare air travel," Ryanair chief executive Michael O'Leary said at a news conference.
Ryanair plans to use the jets to expand its business in Europe.
"I hope it will hasten a new era of price wars in Europe over the next 10 years," he said.
Boeing markets its 737 MAX 200 as offering lower operating costs.
The planes will contain 8 more seats than Ryanair's existing fleet does, with the total capacity of the plane totalling 197.
In a statement Boeing's chief executive, Ray Conner said: "The 737 MAX 200 is the perfect fit for Ryanair, providing improved efficiencies, 20% lower emissions, increased revenues and a high level of passenger comfort."
Since Boeing launched its 737 MAX programme in 2011 it has won 2,219 orders.