TSB to open up to 30 new branches, while 300 other banks shut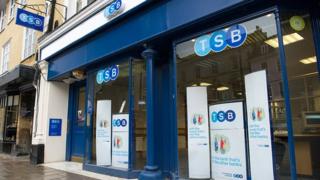 TSB - the bank formerly owned by Lloyds - has confirmed that it is in the process of opening up to 30 new branches.
It is not prepared to divulge where they will be, as it is in the process of negotiating to acquire the sites.
Experts believe the new branches are likely to be in the English Midlands and the South East.
But in banking overall, closures are continuing apace, with more than 300 branches shutting so far this year.
TSB's announcement comes a year to the day since it began trading as a separate company.
It inherited its current network of 631 branches, after Lloyds was ordered to sell them, as a condition of its bail-out by the government.
Rival bank Santander has also announced plans to open or extend more than 30 branches over the next two years.
Closures
At the same time, figures have been published which show the trend to close down branches is accelerating.
So far in 2014, 331 bank branches have closed in the UK, according to the Campaign for Community Banking Services (CCBS).
That compares with 195 in the whole of 2013.
Between them, the big four - Barclays, HSBC, Lloyds and RBS/ NatWest - have closed 233 since January 2014.
Derek French, the director of CCBS, said TSB had inherited many branches in poorly located positions, so needed to expand its network.
"Most of them will be in London and the South East, in areas where they haven't got a branch and they need to open one pretty quickly," he said.
But he also said TSB might eventually need to close some branches too.
The bank inherited a pledge by Lloyds not to close any branches which are the last bank in a community before February 2015.
TSB said it had no plans to close branches, unless two are located close together.
Pilot study
TSB is also promising its customers they will be able to telephone their local branches directly.
Most other banks connect their customers to a central number for all inquiries.
It follows a pilot study in the north of England which will become available in all branches by the end of this year.
The bank prides itself on its local approach.
"TSB is a High Street bank, not a Wall Street bank," said Paul Pester, TSB's chief executive.
However, the bank has admitted that most loan decisions will not be made by a local bank manager, but at regional level instead.
Mr Pester has previously said that 700 branches would be a "sweet spot" for the bank to be in.