Commuter rail fares frozen again, says George Osborne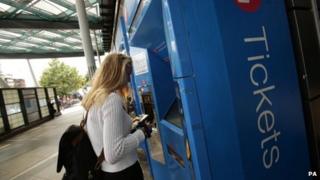 Commuter rail fares in England will be frozen in real terms for another year, Chancellor George Osborne has said.
Regulated fares, which include season tickets and "anytime" singles, will rise by a maximum of 2.5% from January.
This is the level of Retail Price Index (RPI) inflation this summer - normally the cap would be RPI plus 1% - and similar to a move 12 months earlier.
Labour said the chancellor made the decision with next year's election in mind but train companies supported it.
'Help families'
Mr Osborne also said train companies would have less flexibility to vary prices.
The "flex rule" that allows firms to raise fares by 2% above the average increase as long as the overall average stays at RPI plus 1% will be scrapped.
The second year of frozen fares would save season ticket holders £75 across 2014 and 2015, the chancellor told the Sun on Sunday newspaper.
"It's only because we've taken difficult decisions on the public finances that we can afford to help families further," he said.
But shadow chief Treasury secretary Chris Leslie said: "I'm afraid that Mr Osborne relenting for a few months isn't the sign that he's realised the impact in terms of the cost of living on commuters. This is because he sees the election on the horizon.
"We've been saying for a very, very long time that we need a wholesale set of changes to rail fares and the way the rail sector is regulated."
Martin Abrams, of the Campaign for Better Transport, said the announcement would be a "welcome relief to millions of people".
"Hopefully it's an indication that the government will now implement a coherent plan of much-needed investment which removes the burden from passengers," he said.
"Fares need to be held down for the long term while wages catch up, and the inflation formula finally needs to change from the retail price index to the lower, fairer consumer price index to bring it in line with other measures."
'Every pound spent'
Mick Cash, acting general secretary of the RMT union, said the decision would not amount to a freeze to people whose wages were not keeping up with inflation.
But the Rail Delivery Group, which represents Network Rail and train operators, said it supported the government's decision.
Director general Michael Roberts said: "The rail industry will continue investing in more trains, faster services and better stations while getting more out of every pound spent."
Last month ministers defended what should have been a 3.5% increase at the start of next year.
At the time Labour accused the government of ripping off passengers, saying regulated fares had risen 20% since 2010.
In Scotland, there will be no rise in off-peak fares in 2015 - these have been frozen since January 2013. Peak fares will rise by 2.5%, the same as the July inflation rate.
The Welsh government has yet to make a decision but it usually mirrors what happens in England.