CBI predicts UK growth will slow in second half of 2014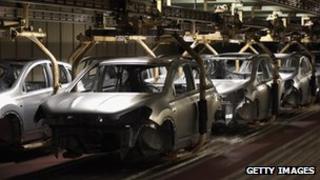 The CBI business lobby group has said it expects UK economic growth to slow in the second half of this year as the impact of improved business and consumer confidence starts to ease.
The economy grew by 0.8% in each of the first two quarters, but the CBI predicts a decline to 0.7% in the third quarter and 0.6% in the fourth.
However, it said the economic recovery was "on solid ground".
Its growth forecasts for 2014 and 2015 are unchanged at 3% and 2.7%.
The group represents 240,000 UK businesses.
"The UK's recovery is on solid ground, with our quarterly growth on average outstripping G7 competitors over the last year," said CBI director general John Cridland.
"For the rest of this year, we expect growth to get on to a more even keel and the recovery to become further entrenched next year."
Salary woes
The CBI said the strong pace of growth in the first half of the year had been bolstered by rising business and consumer confidence, improving credit conditions and reductions in uncertainty over demand.
However, it said growth was expected to steady in the second half of the year, as the initial positive impact of those factors wore off.
The CBI added that the "continued weakness of productivity and slow wage growth" had also led to an easing of momentum.
However, it expected average earnings to pick up, with growth of 1% expected this year and 2.4% in 2015.
"Although hundreds of thousands of new jobs are being created in the economy, there is little upward pressure on starter salaries outside of a few hot spots, such as in parts of the IT sector," said Mr Cridland.
"For longer-term staff, though, awards are often a little higher. We expect wages to pick up across the board next year as the recovery continues."