UK service sector growth 'hits 10-month high'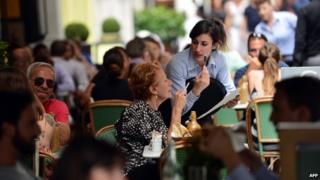 The UK services sector has recorded its fastest growth for almost a year, a survey suggests.
The Markit/CIPS services purchasing managers' index (PMI) hit 60.5 in August, up from 59.1 in July. Any score above 50 indicates expansion.
But a similar survey suggested that growth in the eurozone's services and manufacturing sectors slowed.
Experts said this would put pressure on the European Central Bank to act at its meeting on Thursday.
The UK PMI survey represented the sharpest rise in business activity in the service sector since October last year.
Demand remained strong with marketing activity increasing as a result, it found.
There were, however, concerns about future levels of business, leading to a fall in overall business confidence to a 15-month low.
Earlier this week, the PMI survey of the manufacturing industry showed the sector grew at its slowest pace in 14 months.
"An acceleration of growth in the vast services sector and an on-going construction boom offset a weakened performance in manufacturing in August," said Chris Williamson, chief economist at Markit.
He said the services and manufacturing data suggested the UK economy was on course to post "strong" economic growth in the current quarter, in line with the 0.8% recorded in the first two quarters of this year.
'Weakest growth'
The eurozone PMI survey suggested the region's economic recovery slowed in August as output fell in France and Italy.
The Markit/CIPS eurozone purchasing managers' index (PMI) was 52.5 in the month, down from 53.8 in July.
The score marks the economic bloc's weakest rate of growth in the year so far, Markit said, with output growth slowing in both the manufacturing and service sectors.
"The eurozone economy is defying expectations of gaining momentum, which will no doubt add to calls for the ECB to embark on full-scale quantitative easing," said Mr Williamson.
The ECB is due to make its latest decision on interest rates on Thursday.
Two of the major eurozone economies, France and Germany, had mixed fortunes last month, Markit's data suggest.
France's overall PMI reading for August was 49.5, suggesting continued contraction despite a slight increase in service sector activity.
Ructions in the French economy contributed to the French government being dissolved in August, and Markit figures suggest a sharp fall in manufacturing output.
Germany saw strong growth, but overall output growth slowed to 53.7 in August, down from 55.7 in July.
Italy dipped back into contraction in August, halting a seven-month sequence of expansion.
But Spain reached a 7.5-year high in output growth, and posted its sharpest rise in service sector activity growth since December 2006 after an increase in new business.
Ireland's output hit 61.8, a 14-year high.