Credit Suisse investigating two traders over misconduct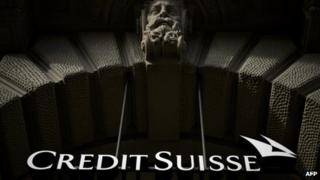 Swiss bank Credit Suisse is investigating two of its traders in London over allegations of misconduct.
According to reports, two employees on its European equities sales team are under scrutiny over their electronic communications.
One trader is said to have improperly shared client information with her husband, who works at a rival bank.
Other employees are also alleged to have watched pornography and used vulgar language in the office.
Credit Suisse confirmed it was looking into charges of trade misconduct.
"We cannot comment on employee matters under investigation," it said in a statement. "However, any allegations of this nature are taken very seriously at Credit Suisse."
The Wall Street Journal first reported that an experienced trader on the European stock training desk had been suspended since February, and that her boss was also on leave as part of the probe.
Banks have been increasingly under pressure to monitor their employees use of electronic communications following high-profile financial scandals, such as the manipulation of interest and foreign exchange rate benchmarks.
Due to increased regulatory compliance rules, many banks are now looking into internal chat-room conversations and archived transcripts.