Help to Buy used by more than 48,000 homebuyers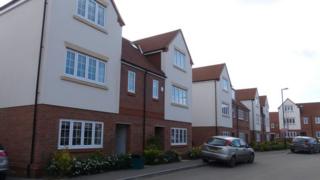 More than 48,000 homeowners have used the government's Help to Buy scheme since it started, figures have shown.
But there is some evidence that the popularity of the scheme may have peaked.
The number of people using the mortgage guarantee part of Help to Buy fell in June, compared with May.
And one housebuilder reported that the equity loan part of the scheme - used for new-build houses in England - was less popular this summer than in 2013.
Use of the mortgage guarantee scheme peaked in May, when 4,026 home-owners took advantage of it.
In June, that number fell to 3,892, according to figures from the Treasury.
In total, 18,564 people have used the scheme since it began in October 2013.
In addition, 29,829 homeowners have taken advantage of the equity loan scheme since it started in April 2013, according to figures from the Department of Communities and Local Government (DCLG).
Purchases made through Help to Buy have accounted for 6% of all property transactions since the schemes began, the government said.
'Normal summer'
Separately, the house-builder Redrow reported that use of Help to Buy loans was less frequent this year than last.
"The summer months of 2013 saw Help to Buy activity at its peak, with reservations running at particularly high levels," said Redrow's chairman, Steve Morgan.
"This year the period from 1st July to date has seen a more normal summer selling pattern." he said.
The company said the market had moderated, as a result of new rules aimed at stopping irresponsible lending.
Since April, lenders have been obliged to ask borrowers more detailed questions about whether they can afford a mortgage, especially when interest rates go up.
Bank of England
Further restrictions on access to Help to Buy have been announced by Lloyds Banking Group since the period covered by the figures.
Since the beginning of August, homeowners have only been allowed to borrow up to £150,000, rather than the £500,000 they were allowed previously.
Lloyds - together with its Halifax brand - has a 50% share of the UK mortgage market.
The UK's biggest building society, Nationwide, has also limited Help to Buy equity loans, by lending only to first-time buyers.
The chancellor too has made the scheme more restrictive, by limiting loans to four-and-a-half times income.
Such moves may go some way to silence critics of Help to Buy, who argue that it has helped to stoke up house prices.
News of a possible slowdown in demand for Help to Buy will be of interest to the Bank of England's Financial Policy Committee (FPC).
Later this month, it is due to decide whether the scheme should be altered.
The current cap on Help to Buy loans is £600,000, but this could be reduced to £300,000 if the Bank decides to cool the market.