PPI complaints remain high despite recent dip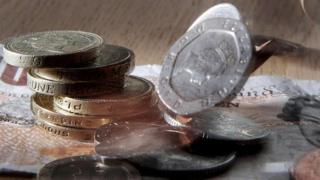 Complaints about payment protection insurance (PPI) have fallen after last year's record, but remain at historically high levels, according to the Financial Ombudsman Service (FOS).
The FOS said it took 133,819 PPI complaints in the first six months of the year, compared with 193,054 in the previous six months.
An FOS spokesperson said complaints remained at a "significant level".
PPI complaints still account for about 70% of the cases that the FOS receives.
The FOS said: "Around 5,000 people a week are currently asking the ombudsman to look into their PPI complaint.
"This is down from the highs of 2013 when we were receiving over 12,000 a week, but still significantly more than any other financial product."
In the last two years, PPI has hit record levels. In 2014, the service took on almost 400,000 new cases.
The service was set up by MPs to settle disputes between financial firms and consumers.
Since 2011, banks have paid £16bn to customers in compensation, according to City watchdog the Financial Conduct Authority.
The FOS's chief ombudsman, Caroline Wayman, said: "Responsibility for sorting out the mass mis-sale of PPI is still the major part of the ombudsman's workload.
"We're seeing more and more people turn to us in frustration where they feel their bank or insurer simply doesn't understand or really care."
PPI policies are intended to cover customers who cannot work because of ill-health or unemployment, but have often been sold to customers who do not qualify.
FCA chief executive Martin Wheatley said: "Making sure anybody previously mis-sold PPI is treated fairly now, and paid redress where it's due, is an important step in rebuilding trust in financial institutions."
Complaints may rise again in the second half of the year after the FCA ordered financial firms to reopen 2.5 million complaints in 2012 and 2013.
The FOS said that it can take between 18 and 24 months to close cases, because of the volume of complaints.