Vacuum cleaner debate hots up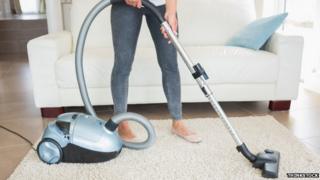 Mr Vacuum Cleaner has swept into the debate over the EU's import ban on high-wattage vacuum cleaners.
James Brown, who runs the vacuum cleaner museum in Derbyshire, says a high wattage is no guarantee of good suction.
He said plenty of appliances would clean well whilst using less than the new 1600 watt limit imposed this week.
He alleged that some manufacturers increase the wattage of their appliances every few years to fool customers into thinking they will suck more strongly.
Mr Brown, who calls himself Mr Vacuum Cleaner, considers himself an expert on vacuum cleaner performance.
His views appear to be supported by the German official testing agency Stiftung Warentest, who told BBC News that 38 models of cleaner would work effectively within the new limits.
This is at odds with the Which? report that triggered a panic-buying spree when it warned its readers that five out of seven of its best buys would fail to meet the new import standards.
Experts say it is almost impossible to compare one set of tests against another, but Prof Will Stewart from the Institution of Engineering and Technology told BBC News that there was likely to be considerable room for energy efficiency improvement in engineering and design of new cleaners.
'Room for improvement'
Mr Vacuum Cleaner told BBC News: "Most modern machines are built to be used for a couple of years, like mobile phones. You can't mend them so you throw them away. There are plenty of older cleaners that will outperform today's cleaners using a much lower wattage.
"Often, more wattage just makes the cleaner hotter. Some of the manufacturers just keep pushing up the wattage with every new model because people will look at it and think 'that must be better because it uses more power', when that's not necessarily the case."
Erika Gehrke, an expert from the independent German testers Stiftung Warentest, told BBC News that "plenty" of vacuums cleaned well whilst using less than 1600 watts. But she warned of the challenge ahead when 900 watts becomes the limit from 2017.
"Only three cleaned well when using just 900 watts, but we think manufacturers can improve," she said.
Prof Stewart said different appliances had varying potential for efficiency improvement. Cleaners probably had substantial potential to improve, he said.
"The same goes for hairdryers - it has been suggested that a hairdryer of half the wattage will take twice as much time to dry hair, but that's not right. You might be able to improve hair dryer efficiency by a factor of two. The key would probably be in improving the jet.
"Kettles are different: a kettle is an element in water. There is not much room for improvement - a lower powered element will just take longer to boil."
Prof Stewart said he would prefer that the EU improved efficiency labelling on appliances, rather than imposing standards.
According to the European Commission, the new rules will help combat climate change and reduce energy costs by saving 19 terawatt-hours every year by 2020. That amounts to the electricity produced by more than four nuclear power plants for 5.5 million households.
Which? has defended its warning to customers. It said its tests are based on several factors, including the ability to pick up super-fine sand from Arizona; collect pet hairs; keep dust inside the machine; ease of use; and noise.
A Which? spokesman would not comment on whether they agreed with the EU efficiency legislation - a move which has prompted calls from some newspapers for the UK to leave the EU.
Follow Roger Harrabin on Twitter @rharrabin