Payday loan hardship cases up 42%, says StepChange charity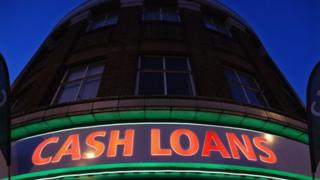 The number of people struggling with payday loans has risen by 42% in the past year, according to a debt charity.
The charity StepChange is asking the City regulator to take further action to protect consumers who suffer from such financial hardship.
It said the Financial Conduct Authority (FCA) should impose an even stricter cap on payday loan costs.
The FCA said it would study the idea, along with all the other responses to its current consultation.
StepChange's latest figures suggest the number of people getting into difficulty as a result of payday loans is continuing to increase.
In the first half of 2014 it dealt with 43,716 consumers who were in trouble. That compares with 30,762 in the same period last year.
'Crucial step'
The FCA is already consulting on plans to cap the costs of payday loans.
It has proposed, for example, that no one should have to pay back more than twice they original amount they borrowed.
But StepChange said that the proposed cost cap should be tougher.
The FCA has also suggested a fixed fee of £15 if someone defaults on repayments.
StepChange said the maximum should be £12, to bring it in line with default charges on credit cards.
"While the FCA's proposed price cap is a crucial step forward, there is much work still to be done," said Mike O'Connor, StepChange's chief executive.
StepChange said it also wanted the FCA to examine other lending markets, including overdrafts, logbook loans, and doorstep lending.
The FCA said research into those areas was already underway, and it could not comment further.
The consultation on a cap for payday loan costs closes on Tuesday.
The FCA will make a final announcement on the size of the cap later in the autumn, and it will take effect in January 2015.