Consumer borrowing jumped in July, says Bank of England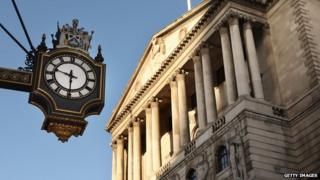 The amount of new money being borrowed by consumers soared to more than £1bn in July, according to the Bank of England.
It is the highest figure since March this year, and a big jump on the figure for June.
Consumers borrowed £1.1bn on credit cards and through unsecured loans in July, compared with £655m in the previous month.
Borrowing on credit cards alone more than doubled over the period.
But the monthly figures are volatile and can depend on the weather.
The fact that consumers are prepared to take on more loans may be a sign of greater consumer confidence.
However, it could equally be that people are having to borrow extra cash to cover their basic needs.
"It may well be that a significant number of people are borrowing more due to the squeeze on their purchasing power, coming from extended low earnings growth," said Howard Archer, the chief UK economist with IHS Global Insight.
And with borrowing on the increase, more consumers will be vulnerable to interest rate rises.
The first of these is expected at the end of this year or early in 2015.