Airport expansion critical for UK, says CBI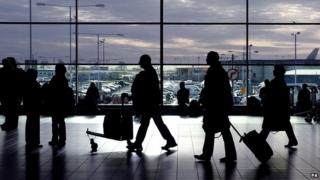 A single, larger hub airport where passengers can transfer to a range of destinations - is "critical" to the UK's long-term economic growth, says the CBI.
The business lobby group said the UK was already losing out to European rivals on direct flights to emerging markets, and urged action by 2020.
"There can be no more excuses," said CBI deputy director general Katja Hall.
Its report comes ahead of a decision on a island airport in the Thames estuary.
The so-called "Boris Island", backed by London mayor Boris Johnson, has been under consideration by the Airports Commission, charged by the government on how to expand airport capacity in the UK.
If it decides to eliminate the estuary scheme from consideration, it would be left with three shortlisted options for expansion - adding a third runway at Heathrow, lengthening an existing runway at Heathrow, and a new runway at Gatwick.
In a column for The Telegraph on Monday Mr Johnson urged the commission to opt for the airport in the Thames estuary, suggesting Heathrow Airport could be used to "release huge quantities of prime land as a wonderful new district for London".
"A third runway [at Heathrow] is so desperately short-sighted. You could not conceivably get it built before 2029, by the airport's own admission - and as soon as it opened it would be full," he wrote.
Heathrow versus Gatwick
The commission, led by businessman Sir Howard Davies, is due to present its final expansion recommendations next summer.
The CBI urged the commission to ensure its decision "maximised links across the UK" and made the "best use of existing capacity".
"While no one can predict the future of air travel, the track record shows that it tends to be hub airports that deliver the new connections to emerging markets that we desperately need," added Ms Hall.
Heathrow boss John Holland-Kaye said the CBI's report meant it backed Heathrow.
"Only Heathrow has the ability to provide the long haul routes that will help our businesses make the deals in those countries that will help the UK prosper," he added.
But a spokesperson for Gatwick said more hub capacity could be achieved by switching some traffic to its own airport, freeing up space at Heathrow.
It said a second runway at Gatwick would create "two world class airports able to address all travel markets and airline models" and "foster competition between airport and airlines".