High-powered hairdryers under threat as EU considers ban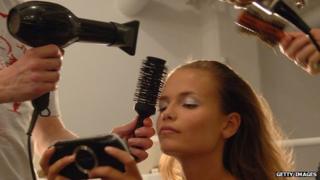 High-powered hairdryers are on a list of household electrical items the EU is considering banning in an attempt to curb energy consumption.
A study, commissioned by the European Commission, has identified up to 30 appliances including toasters and kettles which could be restricted.
The study forms part of the EU's energy efficiency directive aimed at helping to tackle climate change.
It follows a ban on powerful vacuum cleaners which begins on Monday.
From 1 September, companies in the EU will be banned from making or importing vacuum cleaners above 1600 watts.
Retailers said they had seen sales rise ahead of the deadline. Tesco said sales of vacuum cleaners had jumped 44% in the past fortnight, while Co-op Electrical has seen a 38% rise.
The EU has now turned its sights to smaller electrical appliances which are not yet covered by existing legislation.
"We haven't got round to these devices yet, we want to curb power consumption," the EU energy commissioner, Guenther Oettinger, told Germany's Bild newspaper.
'Ill thought-out'
However, an EU Commission spokeswoman said it may end up not regulating hairdryers at all.
"It's a study we have asked consultants to do. In the final report they will reduce 30 products to 20. In January 2015 we will look at these recommendations then select from this list what to regulate and how," she said.
Industry body, the National Hairdressers' Federation (NHF), has urged the EU to reconsider, saying its plans are "ill thought-out".
Former NHF president Mark Corary said a ban would not reduce energy consumption as it would mean blow-drying a client's hair would take longer.
"The more powerful, the faster the blow dry - it's as simple as that," he said.