UK businesses 'want new EU deal', says lobby group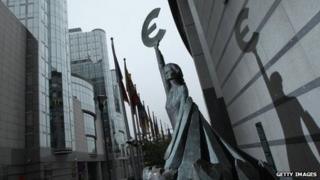 Most British businesses want the UK to renegotiate its relationship with the EU, according to a British Chambers of Commerce (BCC) survey.
The lobby group said 60% of the 3,200 firms polled believed bringing some powers home would help the UK economy.
However, most wanted to stay in the EU - with a majority saying leaving would damage UK business prospects.
The European Council's new president has pledged to reach a deal with the UK on EU reform.
Polish Prime Minister Donald Tusk, who was appointed to the role at a summit in Brussels, said he wanted to "emphasise that the EU, and me personally, will take on the concerns voiced by the UK".
"No reasonable person can imagine the EU without the UK. I cannot imagine it myself. I have talked about it with David Cameron. He put forward many proposals for reforms and I am sure with a reasonable framework of politicians we can reach an agreement.
"We can strive to eliminate various barriers - freedom of movement of workers, for example."
'Losing legitimacy'
The BCC's quarterly survey, which it calls the EU Business Barometer, tested five scenarios for the UK's future relationship with the EU:
Full withdrawal from the EU
Withdrawal from the EU followed by a trade agreement
Remain in the EU with specific powers transferred back from Brussels to Westminster
Remain in EU and integrate further with other EU member states
Remain in EU with no change to current relationship
Respondents were asked to give their view on the potential impact of each scenario on Britain's business and economic prospects.
BCC director general John Longworth said the survey showed firms wanted a renegotiated relationship with the EU, and said the UK's business and trade prospects would be improved "substantially if meaningful EU reform were to take place".
"Unless the European Union is perceived to function in the interests of all of its member states, it will continue to lose legitimacy," he added.