Water bills plugged by regulator Ofwat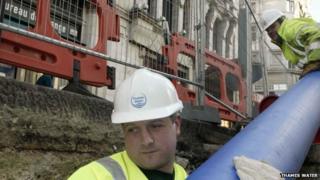 Household water bills in England and Wales will go up less than the rising cost of living in the next five years, under proposals from regulator Ofwat.
It says that bills will be an average of 5% lower, before inflation is applied, by 2019-20.
The regulator has been considering plans submitted by the 18 water and sewerage companies outlining their proposed costs and prices.
Nearly all have been told by Ofwat to reconsider some parts of their plans.
Three companies - Thames Water, Bristol Water and United Utilities - had already been told to rethink their plans, as their initial assessment was vastly different to Ofwat's own estimates.
All companies and consumer groups can respond to the Ofwat proposals by 3 October. The final decision will be made by 12 December, with bill changes taking effect from 1 April 2015.
'Good news'
Companies were challenged by the regulator to consider fully what customers want and can afford before submitting their plans.
Nearly all said that they were planning to cut prices before inflation-linked rises are applied. The proposals also include ambitions to reduce water lost to leakage, cut the amount of time that supply is interrupted by 40%, and to improve water quality at 51 beaches.
Now Ofwat has published its views on how bills should fall for customers of nearly all water and sewerage companies. The price falls over the next five years range from 0.2% to 13.9%.
Water UK, which represents the water companies, said that this was possible because returns to investors would be reduced. It is understood that Ofwat believes the cost of borrowing to fund projects will also be lower for these companies.
However, companies can raise prices in line with inflation, so consumers are still likely to see their actual bills rise in terms of pounds and pence.
Tony Smith, chief executive of the Consumer Council for Water, which represents customers, said the plans were "good news" for bill payers and showed that price changes had been driven by customers' views.
"We got customers pushing water companies to produce realistic plans in the first place," he said.
Sonia Brown, chief regulation officer at Ofwat, said: "Some companies provided excellent, customer-focused plans. Others did not include sufficient evidence to justify their plans, and so we stepped in to make sure customers get a fair deal.
"These are draft decisions and things could still change. Companies will be looking hard at where they need to submit new evidence and we will also continue to challenge hard to make sure that our final decisions result in the best possible deal for customers."
Thames Water, the UK's biggest water company, had said it wanted to increase bills for its 14 million customers by 11% over the five years,
Thames said the increase was needed to help pay for a "super-sewer" being built across London.
Proposed bills for 2015-20
Water and sewerage companies
Five-year change (before inflation-linked rises)
Anglian
-10.9%
Dwr Cymru
-5%
Northumbrian
-2%
Severn Trent
-5.7%
South West
-7%
Southern
-8.5%
Thames
unresolved
United Utilities
unresolved
Wessex
-9.2%
Yorkshire
-4.8%
Water only companies
Five-year change (before inflation-linked rises)
Affinity
-11%
Bristol
unresolved
South Staffs Cambridge
-3.7%
Dee Valley
-5.3%
Portsmouth
-0.2%
Sembcorp Bournemouth
-13.9%
South East
-6%
Sutton & East Surrey
-8.8%
Source: Ofwat