US economic growth revised upwards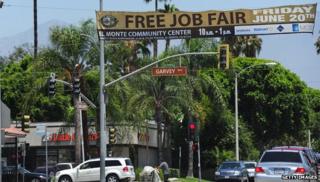 The US economy grew at an annual rate of 4.2% in the second quarter of the year, according to revised figures from the US Department of Commerce.
The revision upwards from 4.0% reflected stronger business spending and exports.
It was the fastest pace of growth since the third quarter of 2013.
A separate report from the US Labor Department showed the number of people applying for unemployment benefits fell by 1,000 to 298,000 last week.
Economists polled had expected the pace of US growth to be revised down to 3.9%.
Growth was instead revised upwards, in part due to stronger exports and public sector spending.
Growth in consumer spending, which accounts for more than two-thirds of US economic activity, remained at a rate of 2.5%.
The US economy has rebounded strongly after shrinking at an annual rate of 2.1% in the first quarter.
The contraction in the first three months of the year was blamed on harsh winter weather which discouraged shoppers and hampered manufacturing.