Ofgem predicts lower profit margins for energy suppliers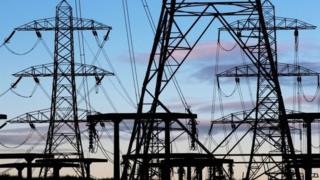 Profit margins of large energy suppliers will be lower over the coming year compared with previous estimates, says the regulator Ofgem.
On a typical dual-fuel energy bill of £1,330, suppliers will make a pre-tax margin of £102, or 8%, which is £4 lower than last month's estimate.
In July, Ofgem said supplier margins would double over the next 12 months, from £53 per bill to £106.
The industry itself regards the figures used by the regulator as inaccurate.
Ofgem says actual profit margins will depend on individual company's hedging strategies and cost efficiencies.
Of the total £1,330 dual fuel bill, Ofgem estimates suppliers' wholesale costs will amount to £598, while network, environmental and social costs will make up £386. Operating costs are estimated at £174.