China investigates executives at VW joint venture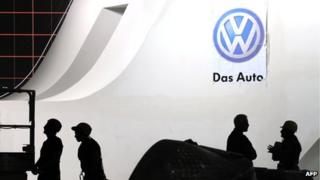 China's corruption watchdog is investigating one former and one current executive at one of Volkswagen's joint ventures for "seriously violating the law".
The two are from FAW-Volkswagen, a joint venture in China between VW and the state-owned FAW Group.
The Central Commission for Discipline Inspection of the Communist Party of China is carrying out the investigation.
Volkswagen has declined to comment.
Foreign carmakers looking to operate in China are required to team up with local companies. Aside from FAW, Volkswagen also has a joint venture with Chinese carmaker SAIC.
Chinese officials have identified former FAW-Volkswagen deputy general manager Li Wu and Zhou Chun, deputy general manager of Volkswagen's Audi sales division, as the two executives being investigated.
The German carmaker counts China as its biggest market. Its luxury Audi brand generates almost one third of its global sales from China and its cars are widely used by high-ranking government officials.
Anti-trust probes
China has been investigating several foreign carmakers over possible violations of the country's anti-monopoly laws.
Audi has already come under scrutiny for its pricing practices as an anti-corruption crackdown in China gathers pace, although it is not clear if the latest case is related to the anti-trust probe.
Earlier this month, China's pricing regulator the National Development and Reform Commission (NDRC) said it found evidence that Daimler's Mercedes-Benz and Fiat's Chrysler units had manipulated prices.
The firms have been accused of overcharging customers for spare parts and other services, and may have to pay heavy fines.
China has said it will "punish" companies found to have broken anti-trust laws and profited from their market dominance.
Last week, it levied a record fine totalling 1.24bn yuan ($202m; £121m) on 12 Japanese car parts companies for price-fixing.