Buying is £1,300 a year cheaper than renting - for now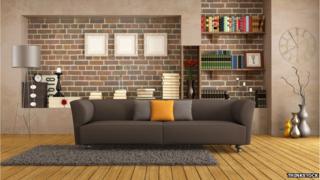 First-time buyers now save £1,300 a year by taking out a mortgage rather than renting, according to Britain's biggest lender, the Halifax.
Based on a three-bedroom house, the average first-time buyer pays £677 a month.
The average rent paid on the same-sized property is £787, giving owners a monthly saving of £110.
But experts warn historically low mortgage rates would not have to rise by much for the reverse to be true.
Separate figures in the report, based on Halifax's BM Mortgages data, show that, at present, buying is cheaper than renting in all regions, except the East Midlands and East Anglia.
The figures are based on data up to June 2014.
First-time buyer average monthly buying and rental costs (Source: Halifax. Any errors due to rounding)
Region
Average monthly buying costs
Average monthly rental costs
Difference
Greater London
£1,308
£1,390
-£82
Northern Ireland
£411
£426
-£14
Wales
£487
£532
-£45
North
£490
£498
-£8
Scotland
£553
£582
-£29
North West
£539
£549
-£11
Yorkshire & the Humber
£509
£528
-£19
South West
£736
£755
-£18
South East
£925
£926
-£2
East Midlands
£559
£544
£15
West Midlands
£589
£671
-£82
East Anglia
£681
£672
£9
The average monthly buying costs include mortgage payments (weighted average of repayment and interest-only mortgage payments), household maintenance, repair, minor alterations and insurance costs and income lost by funding a deposit rather than saving.
Rate changes
The Bank of England base rate has been at a record low of 0.5% for more than five years, which has contributed to cheap borrowing costs.
As a result, the average mortgage rate is low by historical standards, at 3.06%.
Once interest rates have risen to 1.5%, renting begins to be cheaper than buying, says the Halifax.
Should base rate rise to 2.5% - which many people expect over the next few years - the average first-time buyer's mortgage would cost £897 a month, £110 more than if they were renting, said the Halifax.
However, landlords faced by higher mortgage costs would be likely to increase rents.
Financial markets expect the first rate rise to happen in late 2014 or early 2015, although the Bank has suggested the first rise will be small.