Day trips: Keeping the costs down for families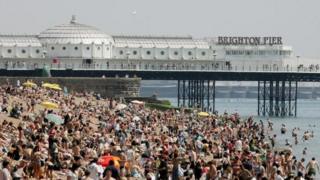 The long holiday season is drawing to a close, with families across the UK counting the cost of trips at home and abroad.
But the summer is not over yet, and attractions remain keen to encourage families through their doors.
Some of the biggest, such as the London museums, the National Railway Museum in York, the National Museum of Scotland or Brighton Pier, have an added attraction to the daytripper - free entry.
But once inside, the visitor's wallet or purse might not stay shut. Extra spending in the cafe, the gift shop, or the cloakroom can soon mount up.
Consumer campaigners say good planning is the answer to keeping these costs down.
Some government-sponsored museums stopped charging in 2001 in a bid to ensure that "culture is for everyone". The British Museum, the National Gallery and Tate Britain are among those that have never charged for entry.
These sites dominate the list of most visited attractions. The British Museum was top of the list with 6.7 million visitors in 2013, up 20% on the previous year, according to figures from Visit England.
Visitor numbers for free attractions in England rose by 3% over the same period. But, interestingly, the number of people going to attractions with an admission fee went up by 7%.
Sarah Long, spokeswoman for Visit England, says there is a variety of reasons why admission-charging sites such as the Tower of London and St Paul's Cathedral are seeing the faster growth.
"It may be because of the recovery in the economy and people have a few more pennies in their pocket to spend," she says.
"But we do know that investment is key. It may be that paid for attractions are more able to invest in their product through marketing and also digital platforms like mobile phone applications."
Picture across Britain
The same trend was seen in Scotland. Attractions with an entrance fee saw visitor numbers rise by 6.6% from 2012 to 2013, compared to a 0.8% increase in free attraction visitor numbers, according to the Moffat Centre for Travel and Tourism Business Development.
In Northern Ireland, visitor numbers were up but the average cost of an entry fee dropped over the same period.
In Wales, it was the free attractions that witnessed a boost in visits, up 8.2%, while visitor numbers actually fell by 4.6% for paid-for attractions.
For many families, the cost of the ticket remains only one of a number of cost considerations.
Stepping out of the Bristol Museum and Art Gallery, the McMurray family were £10 lighter owing to a donation and snacks at the cafe.
Father-of-three John McMurray says it is important that people make a donation if they can, but it is equally as vital that anyone can come in to have a look around without being charged.
Other visitors say that free admission gives families the flexibility to come and go during the expensive school holidays.
Museums with free entry might still charge for temporary "blockbuster" exhibitions, owing to the extra costs that need covering.
But families can easily spend money on mementoes from the gift shop or a sandwiches and drinks for everyone as well.
Jasmine Birtles, founder of the financial website Moneymagpie, says that good planning, while boring, can be the key to keeping a lid on the cost.
Her tips include:
Make a fun picnic to take on the trip, including treats for the children
Give children a limit on what they can spend in the gift shop, or tell them to pay for mementoes with their pocket money
Pick up money-saving tips from other families by searching for their advice on the internet
Use points from loyalty cards, or vouchers for discounts at attractions
Get a friends and family card for train travel to get money off the tickets
Ultimately, families who have travelled to Paris, New York and Rome this summer will probably return safe in the knowledge they are likely to spend less on a day trip to museums and art galleries in the UK.
But taking a trip closer to home might still take the same amount of planning to ensure that those creeping costs do not add up.