UK car production rises in July, says SMMT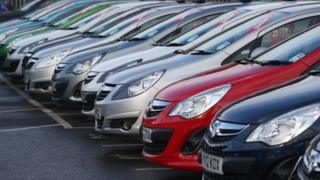 More than 130,000 cars were made in the UK last month, a rise of 2.8% compared with last year, according to the Society of Motor Manufacturers and Traders (SMMT).
Last month's total took the year-to-date figure to 923,884.
This was a 3.4% increase on the total for the first seven months of last year.
Cars made for export rose 2.9% last month, taking the total number exported since 2010 past the 5 million mark.
The average exported car was worth over £20,600, compared to £10,200 in 2004.
The SMMT has forecast that annual production will beat 1972's record of 1.92 million cars by 2017.
The trade body said that rising exports were due to new models being made in the UK and the increasing popularity overseas of premium and specialist brands such as those made by Jaguar Land Rover.
John Leech, head of automotive at KPMG, said the figures underline "how the UK has successfully moved up the value-chain to become predominantly a producer of luxury cars and higher-priced volume cars".
"Other Western European countries will be looking enviously at the UK as these vehicles provide a stable and profitable platform giving suppliers the confidence to invest, which they are doing," he added.