UK retail sales rise less than expected in July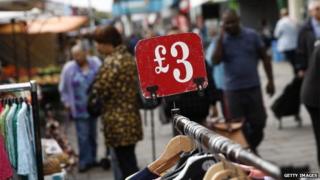 Retail sales rose by 2.6% in July, up just 0.1% from June, figures from the Office for National Statistics (ONS) show.
The growth was weaker than many analysts' estimates that the month-on-month increase would be about 0.4%.
The ONS said that downward pressure on retail sales came from non-store retailing and fuel.
Prices in stores fell 0.9%, after being flat in June, underlining a continuing price war on the high street.
The 1.3% fall in spending in food stores in July was the first year-on-year decline since 1989 when the series began.
Ian Geddes, UK head of retail at Deloitte, said: "Many consumers are yet to feel the benefits of the economic recovery and are reluctant to let go of their recessionary behaviours, particularly when shopping for food."
World Cup effect
Keith Richardson, managing director of the retail sector at Lloyds Bank, said that although consumers had benefited from the supermarket discounting, it would continue to have a detrimental effect on total retail sales this year.
"England's early exit from the World Cup also deprived the grocery sector of a much needed fillip," he added.
Samuel Tombs, senior UK economist at Capital Economics, said that consumer confidence remained high and falling inflation would allow wages to rise before the end of the year: "The recovery in consumer spending should maintain its strong pace over the coming months."
The weaker than expected numbers will further ease fears that the Bank of England may seek to increase interest rates imminently.
The ONS found that for every pound spent in July the retail industry, 42p was spent in food stores; 41p in non-food stores; 6p in non-store retailing; and 11p in service stations on fuel.
The ONS figures are based on a monthly survey of 5,000 retailers, including all large retailers employing more than 100 people.