Osborne under fire over details of Lloyds branch sale to Co-op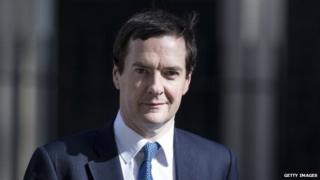 Chancellor George Osborne has rejected demands by MPs for more information about the Co-op's failed bid to buy 632 Lloyds branches.
The Treasury select committee has released letters between the Chancellor and Andrew Tyrie, its chairman.
The MPs want details about possible "undue pressure" on the parties involved in the "Project Verde" deal.
Some MPs believe that the Treasury pressured the Co-op into the deal, which collapsed in April 2013.
The first letter written by Mr Tyrie to Mr Osborne was dated March 26.
It asked about the contacts that the Chancellor, other ministers, including Mark Hoban and Greg Clark, and Treasury officials had in relation to the Verde bidding process with the Co-operative Bank, Lloyds Banking Group, rival bidder NBNK, and regulators.
"We would be grateful to know what was said, to whom, and when," the letter asked. "Did Treasury ministers or any Treasury officials at any time bring undue pressure to bear on the Co-operative Bank or Group, or Lloyds Banking Group, in respect of the sale of the Verde branches?"
In his response dated April 3, Mr Osborne said that all those involved in the proposed sale to the Co-op had told the committee there was no such political pressure.
"At all times, both ministers and officials made clear to the FSA that the regulatory decision on whether to allow the Co-op/Verde deal to proceed ... was a matter wholly and solely for it. At no point did the Treasury seek to interfere in those judgements," the Chancellor wrote.
However, the lack of detail in his response prompted Mr Tyrie to ask for the same information a second time on April 9.
Mr Osborne wrote to the MPs once more on May 3 telling them that details of the relevant conversations and meetings held by the Treasury would be given to a future independent investigation into the Co-op rather than the committee. That would ensure the issues were considered "fully and in the round", he added.
The Treasury select members said on July 23 they had "several concerns" with Mr Osborne's letter and called on him to release more details about the meetings that took place.
"Any enforcement action might take many months or years to conclude. It is not reasonable to expect the committee to wait indefinitely for the information," Mr Tyrie told the Chancellor.
Lloyds was forced by European regulators to sell the 632 branches as a condition of the government aid it received to prevent its collapse in 2008.
Following the failure of the Co-op's bid for the branches, the bank decided to float them on the stock market under the TSB brand.