Former Lehman Brothers bankers win pensions battle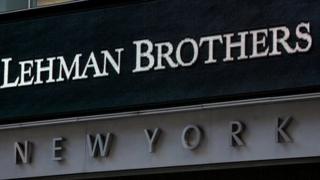 More than 2,400 former Lehman Brothers bankers will have their pensions paid in full following a six-year legal battle.
The bankers, all based in Britain, will receive a total of $306m (£184m) from the collapsed US investment bank.
The deal works out at around £75,000 for each of the 2,466 members.
The Wall Street bank collapsed in 2008 in the highest-profile failure of a bank during the financial crisis.
The Pensions Regulator, which negotiated the deal, said it was its biggest ever win.
The Pensions Regulator's interim chief executive Stephen Soper said it was a "pleasing and appropriate settlement".
"[It] shows we will not hesitate to pursue regulatory action to protect members' benefits where we believe it is appropriate," he added.
The administrators of Lehman Brothers' European arm said it would fund the pensions promised under the scheme after receiving contributions from other parts of the group.