Standard Chartered to pay fresh penalty to NY regulator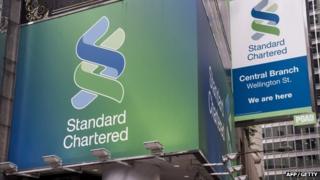 Standard Chartered has agreed to pay $300m (£180m) to New York's top banking regulator for failing to improve its money laundering controls.
The British bank has also been banned from accepting new dollar clearing accounts without the state's approval.
The penalty comes after the bank failed to fix problems identified in 2012.
"If a bank fails to live up to its commitments, there should be consequences," the New York State Department's Benjamin M Lawsky said.
Standard Chartered said it "accepted" the findings of the New York State Department of Financial Services.
'Useless'
"We are continuing the remediation of our AML [anti-money laundering] control issues with the utmost urgency, in addition to improving our compliance programmes generally," it added.
It said a "small proportion" of its clients would be affected by the suspension of dollar clearing for high risk retail clients at its Hong Kong unit, and the banning of high-risk client relationships in the United Arab Emirates.
Independent financial analyst Francis Lun told the news agency AFP the fine would have a negative impact on the bank's reputation and international business.
"It's really an oversight on the part of Standard Chartered. They'd already paid a huge penalty [and] still installed a system that is useless," Mr Lun said.
"It will create tremendous problems with their international clients who cannot settle their accounts in US dollars. It will be a serious blow to Standard Chartered group's international business," he added.
Hong Kong's Monetary Authority, which also acts as the city's central bank, said it had been monitoring Standard Chartered's anti-money laundering and anti-terrorism controls.
"Although we have identified some areas for improvement, they are not issues that cause significant supervisory concerns, " it said in a statement.
Disproportionate
Earlier this month the bank warned it could face more US fines over its money-laundering controls as it reported a 20% fall in half-year profits.
In 2012, Standard Chartered agreed a $340m fine with the New York State Department of Financial Services (DFS) after it was accused of hiding $250bn of transactions with Iran.
As part of that agreement an independent monitor was installed at the bank by the DFS, which discovered that Standard Chartered had failed to detect "a large number of potentially high risk transactions".
Investec securities analysts Ian Gordon called the scale of the fine imposed by the DFS "distinctly unwelcome" adding it "appears disproportionate".
But he said he believed the scale of the impact on Standard Charted would be "contained".
"Our initial view is that the adverse earnings impact of the temporary remedial measures should be contained to 1% to 2% of group earnings," Mr Gordon added.
Standard Chartered is the latest foreign bank to fall foul of New York state and federal authorities for its handling of money transfers from countries and individuals blacklisted by Washington.
In the largest case, French bank BNP Paribas agreed to pay $8.9bn in July to settle charges that for years it knowingly violated US sanctions on Iran and Sudan.
BNP Paribas and other banks fined for similar reasons were ordered to implement stringent compliance regimes to ensure they do not break US rules in their dollar-clearing businesses.