Carillion sweetens Balfour Beatty takeover offer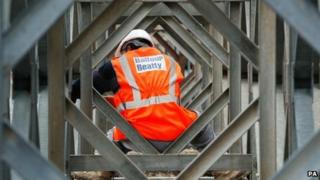 Carillion has raised its offer for Balfour Beatty for the third time, offering new terms that value its rival at more than £2bn.
Carillion said that it "continues to believe in the powerful strategic logic of a merger with Balfour Beatty".
Balfour Beatty said it would consider the revised proposal and "make a further announcement in due course".
The improved offer comes ahead of a "put up or shut up" deadline of 5pm on Thursday.
Balfour shareholders have now been offered 58.268% of the combined company, up from the previous 56.5% share.
Shares in Balfour rose 3.9% in afternoon trading to 257.6p, valuing the company at £1.77bn. Carillion was up slightly to 337.8p, valuing it at just under £1.5bn.
The revised offer represents a 36% premium to the average price of Balfour shares in the month before news of the merger deal leaked.
Philip Green, chairman of Carillion, said: "Given the scale of the prize for shareholders of both Balfour Beatty and Carillion from a merger of the two companies, the board of Carillion remains committed to moving forward in a constructive and collaborative way with the board and management of Balfour Beatty to create a world-class business and very significant value for the shareholders of both companies."
'Sensible'
If the merger does go ahead, Carillion has said it would not proceed with the sale of Parsons Brinckerhoff, the US engineering and design company owned by Balfour.
Niall Dineen, portfolio manager at AGF International Advisors and a shareholder in both companies, said the improved offer should ensure Balfour Beatty resumed negotiations.
"The Carillion argument regarding synergies seems sensible, the Carillion idea of keeping the Parsons Brinckerhoff business seems sensible and the improvement in the offer should be enough to get Balfour Beatty to engage with them," he said.