Monarch airlines plans to slash workforce by up to 30%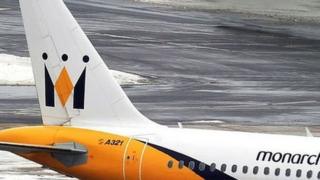 Monarch Airlines may cut as many as 1,000 jobs as part of a major strategic review that aims to cuts costs and may lead to the end of long haul flights.
The airline will instead aim to compete with low cost airlines Ryanair and Easyjet and concentrate on short-haul flights to Europe.
The job losses amount to around a third of the airline's workforce.
The airline has not yet officially announced the cuts, but sources told the BBC jobs would be lost.
Despite increased capacity the airline said passenger demand was flat.
It is retiring three Boeing 757s this Autumn and will have replaced its whole fleet in the next five years.
In July, it confirmed a £1.75bn order for 30 new Boeing 737 aircraft to be delivered by 2020. It is likely to mean a reduction in the size of its fleet from 42 to 30, although the airline does have an option with Boeing to buy a further 15 aircraft.
A statement released by Monarch on Monday said: "The company has previously stated that the new management team is conducting a strategic review of the group's businesses, including in relation to their operations, ownership and financing.
"That review is on-going and further announcements will be made upon its conclusion or as otherwise appropriate."
Strategic review
In an interview with Travel Weekly, Andrew Swaffield, who took over as Monarch chief executive in July, said: "We're on a trajectory of changing from a charter airline to a scheduled European low-cost carrier. We need to operate as efficiently as a low-cost carrier."
He added he expected Monarch to be competing with Easyjet and Ryanair within the next year to 18 months. Mr Swaffield added it was "difficult" for Monarch to operate a long-haul business with only two aircraft.
Earlier in August, Monarch announced it will stop flying from East Midlands Airport next year.
The company began operating from East Midlands after low-cost airline BMI Baby ceased trading in September 2012.
It currently operates 34 flights a week from the airport to nine destinations, mainly in and around the Mediterranean.
A spokesman said the decision came after a review of services. The final Monarch flight will take place at the end of April 2015.
Analyst Howard Wheeldon said the change in strategy at Monarch would come "as little surprise" for many given the strength of competition, high costs and industry overcapacity.
He added many believed the "continuing rise in airport passenger duties....have and will continue to depress and further damage the UK airline industry".