OCBC to raise $2.7bn to fund Wing Hang purchase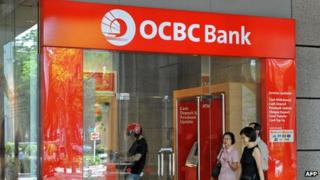 Southeast Asia's second-largest lender, Oversea-Chinese Banking Corp (OCBC), is looking to raise $2.7bn (£1.6bn) from a rights issue to help fund its purchase of Hong Kong's Wing Hang Bank.
OCBC is to sell 440 million new shares at a 25% discount to Friday's closing price of 10.20 Singapore dollars.
The Singapore firm took over Wing Hang for nearly $5bn last month in a bid to expand into the greater China market.
Its purchase was the largest takeover of a Hong Kong bank since 2001.
OCBC shares fell as much as 1.4% in early Singapore trading following the news.
The bank said in a statement that the rights issue "will enable the company to strengthen its balance sheet and enhance the financial flexibility of the Group".
Earlier this month, OCBC reported its largest quarterly profit in nearly two years, with net income rising 54% to $739m for the three months to June.
OCBC, which is one of Singapore's oldest banks, has been looking to expand beyond South East Asia to counter slowing growth in the regional lending markets.
In the second quarter, about 52% of its outstanding loans came from outside Singapore, led by greater China.
Through Wing Hang, the firm will be able to further tap into the growing demand for lending services in China and expand its dealings in offshore renminbi trading.
Its private banking arm will also be able to gain access to Wing Hang's clients, many of whom are small and medium-sized Chinese companies.