Balfour reaffirms Carillion merger snub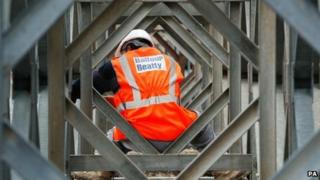 UK construction firm Balfour Beatty has repeated its rejection of a takeover approach from rival Carillion.
In a regulatory statement, the firm said Carillion's offer was unchanged from a second bid that it rejected on 11 August.
Balfour added Carillion's offer would cut its overall revenues by two-thirds. Its 2013 UK revenues were £2.8bn.
On Thursday Carillion said it had offered Balfour shareholders an "additional" 8.5p cash dividend.
But sources said this was in fact in line with consensus estimates among analysts of Balfour's own 2014 dividend.
In its half-year results Balfour Beatty announced an interim dividend of 5.6p per share.
Big contracts
Carillion has argued there is "powerful strategic logic" to a merge between itself and Balfour.
It wants to merge with Balfour to create a £3bn construction company capable of competing for international contracts with rival firms such as Spain's Ferrovial.
But its offer has hit a number of stumbling blocks, including a dispute over whether to continue with the sale of Balfour's US business, Parsons Brinckerhoff.
In its statement issued on Friday Balfour said: "The board decided to pursue a sale of Parsons Brinckerhoff as it did not deliver material competitive advantage for the group and added significant complexity.
"The sale process is well advanced and is evidencing the strategic value of the asset in a rapidly consolidating global professional services sector. Terminating this process risks damaging a significant part of the value of Balfour Beatty."
The construction firm added: "There is overlap between both groups in strategic sectors and clients within the UK and the wider group. This could result in revenue and profit leakage."
Balfour added much of its £1.8bn UK regional revenue would be wiped out by a merger with Carillion.
Savings
On Monday, Balfour Beatty said it had swung back into profit, making £1m for the six months to the end of June, compared with losses of £4m for the same period a year earlier.
Meanwhile, on Thursday Carillion announced a 5% rise in pre-tax profits for the six months to the end of June to £67.5m compared with £64.2m a year earlier.
It said a merger would save both companies £1.5bn and reduce the cost base of the combined group by at least £175m a year by the end of 2016.