Why India is struggling to attract tourists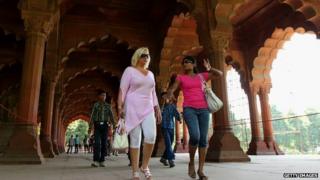 Being a tourist in India isn't always easy - the streets can be noisy and chaotic. But many come here looking for this colour and rich culture.
With three Unesco World Heritage sites in Delhi - the tomb of the Mughal emperor Humayun, the Qutab Minar, and the Red Fort - the capital is the first stop for many visitors.
But India has seen its reputation hit in recent years, and Delhi particularly so.
The fatal gang rape of a young female student here almost two years ago led to countrywide street protests and was reported around the world, adding to an image that India, and Delhi specifically, was unsafe for women.
And the organisation running Delhi's famous monuments, the Archaeological Survey of India (ASI), says that since then there has been a sharp fall in ticket sales to foreign tourists.
ASI has been promoting Delhi's history as the government is pitching for the national capital itself to be declared a World Heritage site next year.
Such a declaration by Unesco would help bring more investments into the tourism sector in the city.
But even if ASI cannot pinpoint a specific link, it is beefing up security anyway to try to make women tourists feel safer.
"We have engaged private security guards to provide security around the monuments," says Vasant Kumar Swarnkar, the superintending archaeologist of ASI Delhi.
"They will control crowds but also provide safety information to foreign tourists.
"I don't think any security lapse is there but we are also going to install closed circuit TV cameras in these World Heritage monuments."
Tourism's economic role
That is reassuring for people like German schoolteacher Cornelia Naceur. She came to India to see the Taj Mahal in Agra during the so-called "supermoon".
This is her fourth time in India travelling on her own and she has no intention of being put off.
"I'm just careful to avoid dark areas, and try and stay near people," she says.
"I try and dress in a way that won't shock anybody and is appropriate. Then I find people here are very friendly. I actually find that people go out of their way to be helpful."
And that is an image that India is keen to get out - not just to help its reputation, but its economy.
Tourism makes up almost 7% of India's GDP - about the same as the IT sector. It is also responsible for about 100 million jobs.
But official figures show that last year, the entire country attracted fewer than seven million foreign tourists, while cities like Bangkok and London attracted twice that number.
From the Taj Mahal on the banks of the River Yamuna to white sandy beaches in Gokarna in the south - there's no shortage of options for visitors. But experts say not enough is being invested in making tourism here attractive.
Infrastructure problems
The travel site TripAdvisor conducted a survey of women travellers earlier this year - 95% of respondents said they felt Delhi was the most unsafe city in India.
"The general complaints of women travellers are largely in line with the general complaints from all travellers coming to India," says Nikhil Ganju, TripAdvisor's country manager.
"Getting a visa into India is not the easiest task or hasn't been the easiest task for the longest time now.
"If that very first experience is something that is turning off for the traveller, you can imagine what they would perceive about the rest of the journey in India."
There are also "clear infrastructure issues", he says.
"It's not easy to get from point A to point B [and there's] a lack of quality hotel infrastructure in places."
Increasing competition
The government has taken a few steps recently to boost India's image. It has announced a plan to give visitors from 40 more countries visas when they arrive.
The tourism ministry also has plans to create special police forces just for tourist spots.
But with competition for tourists increasing from countries across the region, it is getting harder to attract visitors to India.
And with an economy that's growing at its slowest pace in a decade - India cannot afford to lose out on precious tourism dollars.