Warren Buffett's Berkshire Hathaway shares top $200,000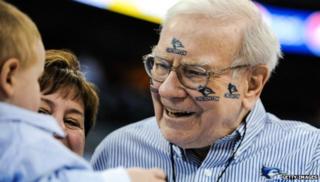 Shares in Warren Buffett's Berkshire Hathaway have surpassed $200,000 (£120,000) for the first time.
That values the firm - which has added over 70 companies since Mr Buffett took it over in the 1960s - at an estimated $326bn.
The company's shares have long been the most expensive stock in the US.
Mr Buffett has never split the company's class A shares, although there are cheaper class B shares that are priced at $134 per share.
On Thursday, shares in Mr Buffett's company rose $3,241, or 2%, to end at $202,850.
The price of Berkshire Hathaway's class A shares are more than 60 times the next most expensive stock listed on US exchanges - that of Seabord Corporation, a transportation and agriculture firm.
Mr Buffett has become a legend for the performance of Berkshire, earning him an army of followers in the private investor community.
Berkshire has a large number of majority and minority investments in dozens of companies, ranging from small jewellery and furniture retailers to insurance giants Geico and General Re, chemicals group Lubrizol, Coca-Cola, IBM, American Express, Wells Fargo Bank and dozens of others.
Berkshire's long-term gains have made Mr Buffett the world's third wealthiest man, with a fortune of $65.9bn, according to Forbes magazine.
Earlier in August, Berkshire Hathaway reported second-quarter earnings of $6.4bn,