Mortgage lenders say 'prepare for a rate rise'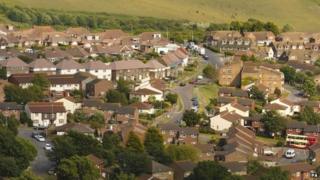 The number of UK homes repossessed during the Spring fell, but households have been warned by lenders to prepare for rate rises.
A total of 5,400 properties were repossessed in the second quarter of the year, the Council of Mortgage Lenders (CML) said.
This was down 1,000 on the previous three months, and down by 2,200 on the same period a year ago.
The CML said that it would welcome Bank rate rises only in "baby steps".
"Rates will rise at some stage, of course, and borrowers should be planning for that now," said Paul Smee, director general of the CML.
"We welcome the message from the Bank of England that, when it raises rates, it plans to do so in a series of 'baby steps', matched to a careful assessment of the ability of households to deal with higher borrowing costs.
"Any borrower anticipating payment problems should talk to their lender as soon as possible."
Mark Carney, the governor of the Bank of England, said in his quarterly inflation forecast on Wednesday that any rise in interest rates would be gradual.
House price calculator
Use our calculator to see where you can afford to rent or buy
The number of repossessions was at its lowest level since quarterly records began in 2008, but was in line with the CML's expectations.
A home is repossessed when the owner falls too far behind on their mortgage repayments.
The CML said that the number of homeowners who had missed repayments was also falling.
The number of mortgages in arrears of 2.5% or more of the balance stood at 131,400 at the end of June, the lowest level seen since the first quarter of 2008.
Tenant evictions
While the number of homes being repossessed from owners has been falling, the picture is not so rosy for tenants.
Figures published by the Ministry of Justice earlier in the week showed that landlord possession claims - the first stage of the process in evicting tenants - have been rising since 2010.
The latest data showed that there were 38,509 landlord possession claims in the second quarter of the year.
This was the highest total for the second quarter of any year since 2009, although it was the lowest quarterly figure for two years.
"Each one of these will have had their lives turned upside down by this experience, as they faced seeing their home, the foundation of their life, ripped away from underneath them," said Campbell Robb, chief executive of Shelter.