Carillion improves offer for rival Balfour Beatty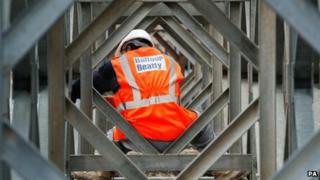 UK construction firm Carillion has sweetened its takeover offer for rival Balfour Beatty, arguing there is 'powerful strategic logic' in a merger.
It comes as Carillion announces a 5% rise in pre-tax profits for the six months to the end of June to £67.5m compared with £64.2m a year earlier.
Carillion said it had held meetings with shareholders since 11 August, when its second offer was rejected.
It has offered an extra cash dividend of 8.5p per share to shareholders.
It also said a merger would save both companies £1.5bn and reduce the cost base of the combined group by at least £175m a year by the end of 2016.
'Financial benefits'
On Monday, Balfour Beatty said it had swung back into profit, making £1m for the six months to the end of June, compared with losses of £4m for the same period a year earlier.
Carillion said on Thursday it "continues to believe in the powerful strategic logic and financial benefits of a merger with Balfour Beatty and is therefore continuing to consider its position".
Ballfour Beatty responded to Carillion by saying the company had still not addressed "significant risks" it had outlined in its rejection of Carillion's second takeover offer.
It said Carillion's assessment of the cost savings a merger would achieve were "incorrect" adding: "The board of Balfour Beatty has serious reservations as to the achievability of the stated synergy number and believes that it creates unacceptable operational and financial risks."
The construction firms also said Carillion's desire to cancel Balfour's planned sale of its US business Parsons Brinckerhoff was a significant road block to the deal.
Balfour Beatty shares were up 1.48% to 240p, while Carillion's were up 2.22% to 327.10p at midday.