South Korea cuts lending rate to boost domestic growth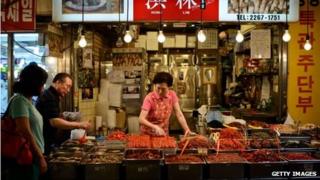 South Korea's central bank has cut its key lending rate to 2.25% from 2.5%.
The move, the first cut in 15 months, is designed to boost growth at home, which has been sluggish since the sinking of a ferry carrying hundreds of passengers - many schoolchildren - depressed consumer sentiment.
The Bank of Korea (BoK) - the country's central bank is also trying to cushion itself against external risks.
The rate cut follows a massive stimulus package unveiled one month ago.
The BoK said in a statement: "In Korea, exports have maintained their buoyancy but the Committee judges that improvements in domestic demand, which had contracted due mainly to the impacts of the Sewol ferry accident, have been insufficient, and that the consumption and investment sentiments of economic agents also continue to show sluggishness."
In April the Sewol ferry, carrying 476 people, sank off the south coast of South Korea. The tragedy claimed the lives of more than 300 people, most of them school children.
Slowdown
While the Bank of Korea sees the global economy sustaining its modest recovery, it is also concerned about the end of the US's easy monetary policy and economic slowdowns elsewhere.
While many analysts had expected the central bank to lower its borrowing cost, it was not seen as a universally good idea. Tiffany Qiu from RBS based in Hong Kong said: "Household debt is high and lowering interest rates could worsen the situation as it encourages households to take on more debt."
Last month, the government unveiled a $40bn (£23bn) stimulus package to help boost the economy.
The South Korean economy is slowing and recently the central bank lowered its forecast for economic growth this year to 3.8% from 4%.