Mexico awards 83% of oil reserves to state firm Pemex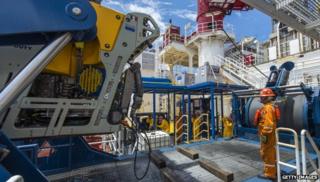 The Mexican government has granted national oil firm Petroleos Mexicanos (Pemex) the rights to 83% of the country's proven and probable oil reserves, as part of a broad overhaul.
But Pemex will only get 21% of possible reserves, less than it had asked for.
Those are the areas where oil has not yet been discovered and which will require a greater degree of investment and exploration to fully exploit.
Mexico enacted new rules this week to open up the country's energy sector.
Private oil companies are now allowed to operate in the country for the first time in 76 years.
The next round of bidding will see private oil firms vie for the remaining 79% of possible reserves.
Joint ventures
The BBC's Will Grant in Mexico City says the announcement is good news for the likes of Exxon Mobil from the United States, the Anglo-Dutch multinational Royal Dutch Shell and the Russian firm Lukoil, which are all said to be interested in the auction of Mexican oil contracts due to be completed by June 2015
In the end, it seems that both sides can be reasonably happy with the outcome, our correspondent adds.
The director of Pemex, Emilio Lozoya, said the company intended to set up 10 different joint ventures with the private firms, among them plans for deep-water drilling.
President Enrique Pena Nieto has made energy reform a key goal of his administration.
His government said it hoped to receive about $50bn (£30bn) in investment over the next three years as a result of the new rules opening the sector.
The hope is that the changes in the energy sector will boost production back to 2004 levels by 2025.
Crumbling infrastructure, bureaucracy and corruption have pared Mexican production from 3.6 million barrels a day in 2004 to just 2.5 million.
Mexico's state ownership of its natural resources has been enshrined in the constitution since the late 1930s.
The government had to get a constitutional amendment through parliament last year before a protracted process of secondary laws could begin.