UK pork farmers threatened by Russian import sanctions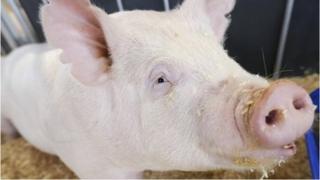 UK pork farmers will face pressure to lower prices because of Russia's ban on food imports from a number of Western countries, say experts.
The ban is expected to increase the supply of pork on world markets.
"This will increase competition on global markets," said Mick Sloyan, director of BPEX, the UK trade body for pork producers.
"It may have some knock-on effect on the EU market and, hence, the UK," he added.
The ban bars imports from countries which have imposed sanctions on Russia.
The tit-for-tat ban, expected to last at least a year, includes the EU, US, Australia, Canada and Norway.
Russia imports around 90% of its pork with Canada supplying 40% of that. The ban means that those farmers will now have to find alternative markets.
James Leavesley, chief executive of Midland Pig Producers, said this could lead to oversupply in the market, with pork exports originally bound for Russia now set to be sold elsewhere.
"If Russia bans pork from other countries there is a danger it could be dumped into the UK market," he says.
Cost control
Mr Leavesley said the industry had already been hurt by low margins and falling prices.
Pork prices have already fallen in some regions.
In Chicago, where one of the main benchmark pork prices is determined, "Lean Hog Futures" have fallen 18% from their 7 July peak.
"The Russians are going to leave some extra meat on the market for consumers to absorb," Terry Roggensack, partner at commodity research firm the Hightower Report, said.
The ban, which came into effect on Thursday, makes it difficult for farmers to control their costs or decrease production, potentially prolonging any slump.
"It's a slow reaction time," Mr Leavesley says. "If we fertilise a sow now, it's twelve months until the pigs are ready for market. Even if we stop today, it'll be a year before it affects our output."