Royal Mail cuts half its later collection times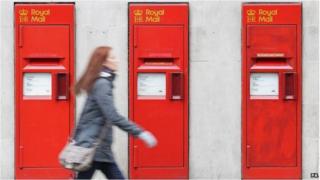 Collection times at almost half the Royal Mail's collection boxes will be brought forward to between 9am and 3pm.
Between 45,000 and 50,000 of the company's post boxes will move to the earlier collections.
Royal Mail says there will still be a late posting box within half a mile of areas affected and will add 2,000 post boxes to its 115,000 network.
The earlier collections will be picked up by delivery staff as part of their existing rounds.
The majority of those switching as part of today's announcement will be in urban and suburban areas, with an indicator tab showing whether a collection has been made.
Post men and women empty some 12,000 postboxes in rural areas and many of the new boxes will be targeted at these areas, the company said.
Royal Mail said many post boxes no longer cover their costs: "Rather than decommission uneconomic postboxes, while staying within the regulated density requirement, Royal Mail will ensure their viability by improving the efficiency of its collections arrangements."
Alternative providers?
The regulator, Ofcom, requires Royal Mail to have post boxes within half a mile of 98% of households.
In response to the new plans it said: "Ofcom recognises the need for Royal Mail to become more efficient so it can sustain a universal postal service that consumers value highly."
"While the changes won't affect the majority of postal users, Ofcom expects Royal Mail to communicate clearly with any affected consumers and ensure that their reasonable needs continue to be met," the statement said.
Ofcom reviewed customers' attitude to posting times last year and found that 91% of postal users did not choose a postal box based on collection time.
Alexander Jackman, head of policy at the Forum of Private Business said:
"As Royal Mail faces increasing competition, it's understandable that the service needs to be a leaner operation.
"However, as businesses see service levels decline while postage costs continue to rise it is inevitable that many will look for alternative providers if that's an option for them."