UK trade deficit widens in June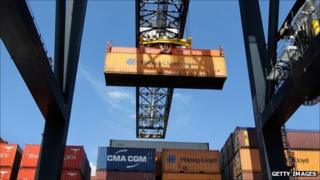 The UK's trade deficit widened slightly in June as exports of goods fell, official figures show.
Latest figures from the Office for National Statistics (ONS) showed the goods trade deficit hit £9.4bn, from £9.2bn in May.
Exports of goods fell by £0.4bn, which the ONS said reflected falls in oil and manufactured goods.
The deficit on trade in goods and services was £2.5bn in June, up slightly from May's deficit of £2.4bn.
'Challenges'
The UK government has sought to help exporters as part of its attempt to rebalance the economy, but weak growth in the eurozone - a key market - has proved a problem.
Exporters have also been complaining about the rising strength of the pound, which has risen against other currencies on speculation that the Bank of England will be the first major central bank to raise interest rates.
"It is disappointing that the trade deficit widened again in June," said David Kern, chief economist at the British Chambers of Commerce.
"Weaknesses in the global economy are still a problem and the challenges facing UK exporters are being made even greater by the strengthening pound."
Howard Archer from IHS Global Insight said: "UK exporters will be perturbed by current worrying signs that already weak eurozone growth is faltering anew as deteriorating relations with Russia and tit-for-tat sanctions weigh down on confidence."
Separate figures from the ONS showed that UK construction output rose by 1.2% in June from the month before, and was up 5.3% compared with June 2013.
Housebuilding was a major contributing factor once again. Residential housebuilding grew by 1.9% in June compared with May and was up by 17.9% compared with June last year.