Thousands miss tax credit deadline, says HMRC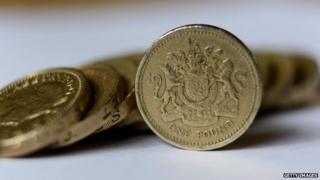 Some 455,000 people failed to renew their tax credit claims with some now facing payments being cancelled, the UK tax authority has said.
The figure is the lowest recorded by HM Revenue and Customs (HMRC), and comes as a new service allowed claimants to renew their claim online.
Millions of UK households receive tax credit payments, to help low-income families with costs such as childcare.
The deadline for renewal was delayed this year owing to strike action.
Public and Commercial Services union (PCS) members conducted a three-day walkout in an ongoing dispute over job losses and office closures. This meant the tax credits renewal deadline was pushed back by a week until the end of Wednesday.
Online renewal
There are two types of tax credits. Child tax credits support low-income families, whether or not they are in work. Working tax credits are for working people on a low income, with additional help for childcare costs sometimes included.
All claimants must complete an annual renewal form. If there are changes to working hours, childcare costs or pay, then these must be declared on the renewal form, so the new payments can be calculated.
Just over three million people renewed by the deadline. The most popular way to do so was by returning forms in the post, with 1.3 million using this option. Some 390,000 took advantage of an online renewals service, available for the first time, with nearly half of them using a smartphone or tablet computer.
The total of those who did not renew was down 195,000 from 650,000 people last year. Some of those would not have renewed because their circumstances may have changed so they were no longer eligible for payments.
However, those who simply missed the deadline face their payments being stopped. HMRC said they should contact the tax authority as soon as possible.