News Corp reports falling revenue on advertising drop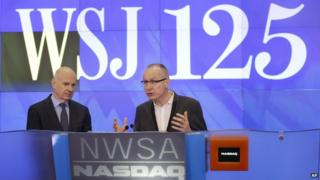 News Corp, which owns the Times and Wall Street Journal newspapers, has reported a 3% decline in quarterly sales.
It reported revenue of $2.2bn (£1.3bn) for the three months to the end of June. Net income came in at $12m.
Both advertising and subscription income declined over the quarter.
It has been a year since News Corp split its publishing business from its media and entertainment operation, now owned by 21st Century Fox.
News Corp said that lower circulation of newspapers in the UK and Australia was partly offset by higher cover prices.
The company was also able to raise the subscription price to the Wall Street Journal and its website, WSJ.com.
"While we are operating in a challenging advertising environment, our results highlight the diversification of our portfolio and our cost discipline, leading to improved free cash flow and a firm foundation for sustained growth," said chief executive Robert Thomson in a statement accompanying the results.
As well as newspapers, News Corp owns book publishers HarperCollins and Harlequin Enterprises.
Revenue at the book publishing division rose 10% during the quarter, boosted by strong sales of the Divergent series of science fiction novels by Victoria Roth.