Priceline Group in $500m Ctrip investment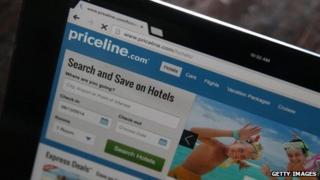 Priceline Group, owner of travel websites including Booking.com and Agoda, has agreed to invest $500m (£297m) in China's biggest online travel company Ctrip.
Priceline has also gained rights to buy Ctrip shares over the next 12 months and take its holding to up to 10%.
The two companies also agreed to expand a deal, struck two years ago, to cross-promote their hotel room inventory.
The move comes as demand for travel to and from China has been growing.
China - the world's most populous nation - now accounts for nearly one in 10 tourists globally.
Chinese tourists are also the biggest spenders in the world, making it an even more attractive market for travel companies.
"Through this partnership, we have an opportunity to further help the world experience China, and China experience the world," Darren Huston, chief executive of Priceline, said in a statement.
"We are eager to build upon what has already become a great partnership, and thrilled to be able to offer our customers even more hotel options in China."
According to its website, Priceline has a global portfolio of over 500,000 accommodations outside of the Greater China region.
Meanwhile, Ctrip boats of having more than 100,000 accommodation options in China as a whole.